WCLT Scholarships 2021
WCLT Scholarships 2021 Awarded
In 2021 the Westborough Community Land Trust (WCLT) awarded two $1,000 scholarships and two honorable mentions to graduating Westborough High School (WHS) seniors. Awards were made on the basis of essays submitted in WCLT's annual Earth Day Essay Contest.
"We had a wonderful group of essays this year. Forty percent of the essay writers were fond of the Bowman Conservation Area. Other areas enjoyed were Cedar Swamp, Lake Chauncy, Mill Pond, Libbey/Wile, Upper Jackstraw Brook, and the Charm Bracelet trails," said Annie Reid of the WCLT Scholarship Committee. "Families, scouting, and courses in photography and in the environment helped our young people develop connections to the natural environment."
Leila Ahmed won a scholarship for her essay describing how she enjoyed nature in the Bowman Conservation Area while growing up, became interested in the human impact on the area, and planned a garden of pollinator-attracting native plants there. In college she plans to pursue a degree in environmental science or environmental engineering.
Colleen McGrath received a scholarship for her essay describing how, through nature photography, she grew from a teenager feeling confined by Westborough into someone who loves nature, especially in Westborough, strives to live more sustainably, and carries a trash bag along with a camera. She plans to study education at Boston College and is leaning toward a career in secondary education.
The scholarship recipients' essays can be read below.
Michael O'Keefe received an honorable mention for his essay describing how, through Boy Scouts, his childhood enjoyment of nature developed into a passion that led him to carry out numerous projects focused on the upkeep and improvement of Westborough's trails and conservation areas, and ultimately to understand that we are all responsible for the upkeep of our natural resources. He plans to study engineering in college.
Infanta Antony was recognized with an honorable mention for her essay describing how, through scouting, she came to love exploring nature, especially in the Bowman Conservation Area, and with other Girl Scouts made a video to help protect that area by informing people about its wildlife, water supply, and history. She plans to attend college in the fall and aims eventually to become certified as a physician's assistant.
Leila Ahmed's Earth Day essay 2021:
I was lucky enough to grow up on Bowman Street across the street from the Bowman Conservation area. My parents chose the house they did in large part because of the Conservation area being so near. The woods and the reservoir were my playground as a child. My mother would secretly create fairy houses in the woods out of leaves, twigs, acorns and stones, and I would discover these treasures with utter delight on our frequent walks through the woods. My parents taught my sister and me how to skip rocks at the reservoir, and fish. Countless afternoons in all seasons were spent exploring there. During summer months, we would be treated to a variety of visual wonders and sounds--a cluster of delicate lady slippers blooming in the shade of a tree, a mass of Queen Anne's lace blooming by the water, a group of mother deer and fawns, a bright red fox, a grouchy snapping turtle who was looking for a place to lay her eggs, a very plump groundhog (much to my dog's astonishment), a shy coyote, snakes, a croaking chorus of frogs, salamanders, butterflies, and birds of all colors and songs.
I participated in the Nature Camp that was offered at Bowman Conservation area every summer, and got to know the woods and the trails like the back of my hand. In winter, my mom would take my sister and I out to hike through the woods when it was snowing, where we would have snowball fights, and skate on the pond when it froze. On winter nights, I would fall asleep listening to the soft hooting of the owl who lived in the woods across the street. In the spring, I would clean up the litter from the Conservation area on Earth day, but as a family, we would often go out with a trash bag to collect and recycle litter as a matter of routine.
As I got older, I was became more interested in how human impact on the woods and reservoir affects our drinking water. Through Girl Scouts and guided hikes by Westborough Land Trust, I was able to expand my knowledge on topics like wildlife, plants, and ways to help protect the woods. For my Silver Award project, it was an easy decision to base our project on the Sandra Pond Reservoir and Bowman Conservation. Two neighbor friends and I created an informational youtube video to educate the public on topics such as how to hike in the trails in an eco-friendly way, without harming plant or animal life in the area.< /p>
For my Gold Award project, I would love to give back to this beloved Conservation area which has given me and my family so much enjoyment over the years. I plan to clean up a section of the trail that is in a small clearing in the woods. It's one of my favorite places in the woods, as it presents a lovely view of the water. I will use natural materials to delineate and redefine the trail, which is not clearly defined currently, and plant native wildflowers and other plants to attract butterflies and honeybees. My goal is to enhance the health and beauty of the woods by creating this garden of native plants, and also to assist new families of hikers who sometimes lose their way in the woods when the trails are not clearly defined. Being surrounded by so much natural beauty made a deep and lasting impression on me from childhood. Without question, my interest in the environment was sparked in large part by all the time I spent exploring, playing and hiking in the Conservation area. I plan to major in Environmental Science or Environmental Engineering at college, and want to pursue a career devoted to the ethical stewardship of our oceans which are in great danger.
Colleen McGrath's Earth Day essay 2021: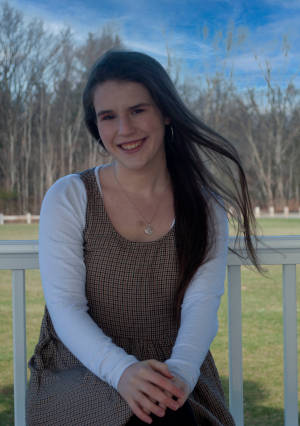 I never used to see the beauty of living in Westborough: it's a fairly small town, has a couple of coffee shops, and as of now, we don't even have a movie theater to catch a matinee in. It's easy to overlook the charm of living in Westborough because the 21.62 square miles can often make the town seem quaint, constraining even. So naturally, around my freshman year, when I was beginning to gain independence, I asked myself, What does Westborough really have to offer?
I'm happy to say that by my senior year, my hobby of photography has given me an answer. /p>
When I got my first camera, nature immediately became one of my favorite subjects to shoot. I love the subtle repetition in nature; the curves of leaves, the ripples the sun casts on water, morning dew sprinkled over blades of grass. Because I've practically neighbored the Bowman Conservation Area my whole life, this was the perfect place to begin my exploration of Westborough. I photographed bubbling streams, narrow pathways, and of course, Sandra Pond. I'd been here many times, but it was my camera that made me feel connected to it. It opened my eyes, showing me that I need to stand back and take it all in to appreciate the glorious nature right here in my hometown.
As I continued to explore Westborough through photography, I only became more connected to nature throughout town. When I was younger, Lake Chauncy used to be just a summer escape when the temperatures got too high. But once I took the time to investigate the area, camera on-hand, I found myself amazed at the bursting life in Westborough. Wandering the trails surrounding Chauncy, I've taken photos that make me proud to live in Westborough. I admire swans gliding through the lake, sunsets, and swaying ferns and wildflowers. I am especially drawn to the wildlife that overtakes some of the forgotten structures off of the trails, and am fascinated by ivy cascading the deteriorating walls. In fact, these buildings around Chauncy inspired my AP photography portfolio, which concentrates on the beauty of nature consuming abandoned man-made structures.
I've found magic in little things around town, too. For example, on Valley Brook Road (fittingly), there's a small, burbling brook that I could watch bubble for hours. Another favorite spot is one of the town's water towers. It's the best spot to watch a sunrise or sunset, perfect for photoshoots. I love the perspective it gives me of Westborough: I look down on the trees, see hills in the distance, and I can begin to grasp the beauty within the borders of Westborough. Suddenly, the small town doesn't seem as confining. I have learned that sometimes exploration is needed to uncover potential right in front of me. My hobby has brought me to love Westborough, particularly through exposing me to Westborough's sometimes-hidden natural beauty.
Photography has bonded Westborough and I. My recount of photographing Westborough may seem perfect, but in reality, it is far from this. Because I'm so connected to the outdoors in town, it disappoints me to see litter recklessly discarded in the places I photograph. Not only is this disrespectful to our town, but it's damaging to the environment. Litter pollutes water, soil, and even air. Plastics are dangerous to animals, as they may mistakenly consume them, and marine animals may even be strangled.
My increased respect for Westborough and its nature has resulted in my trying to live more sustainably. I have limited my use of single-use plastics. I was inspired to take an Environmental Science class, in which I am learning to be more conscious of my actions, so now I think twice before discarding something, and try to repurpose instead. Finally, whenever I go out and explore nature in Westborough, not only do I bring a camera with me, but also a trash bag, so that I can collect some of the carelessly discarded waste. These actions never seem like enough, but I feel like I owe them to Westborough; nature has brought me so much joy, that I believe I should help it flourish so that others can enjoy it too.
I plan on leaving Westborough soon for college, and hope to travel the world and explore other areas. However, I know that whenever I am home visiting Westborough, the town's marvelous nature will never leave me short on new things to take pictures of.