Stewardship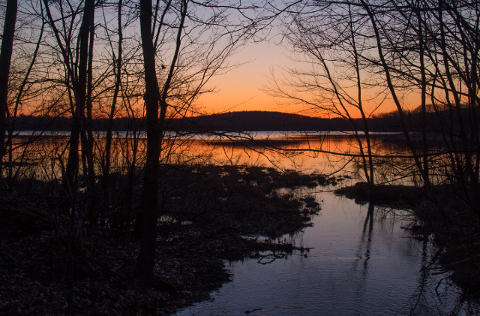 Photo Courtesy of Hugh Howarth
Sunrise over Mill Pond. Three-quarters of the shoreline is accessible by WCLT-maintained trails.
The Stewardship Committee of the Westborough Community Land Trust leads the effort to maintain and monitor the properties of WCLT as well as additional property that WCLT maintains for the town. The committee's main efforts are:
Providing public access to WCLT properties

Monitoring conditions on WCLT and town properties

Leading the effort to build the Westborough Charm Bracelet Trail system in town
Through these efforts, WCLT is stewarding almost 300 acres of land in town. We are also working with the Department of Conservation and Recreation to build trails on and monitor roughly 1700 acres of state-owned property.
How does WCLT steward a property?
WCLT works to steward properties in many ways. We map the property for planning purposes and for developing trail maps. We identify access points to the property and work with neighborhoods to ensure safe access to lands. We work to develop a management plan for the property and to gather information on its biological and geological features. We develop trails and other access to the property to enable people to enjoy the open space.
What goes into planning and building a trail?
First, we plan the trail to support a particular need, such as access to the property or keeping trail users away from populated areas. Then we consider the trail's impact on the local ecology and design a route that will minimize that impact. Finally, we look for existing trails or woods roads that can be utilized so new trails need not be constructed.
Once a trail route has been chosen, we carefully flag the route. Then we schedule a work party with volunteers from neighborhoods, schools, youth organizations, and local businesses to build the trail. Additionally, we buy materials for bridging where needed. Finally, we blaze the trail and put up signs to make the trail easy to follow.
Who pays for all this work and the materials?
WCLT relies on volunteers and contributions to perform its stewardship work. As we go forward, we will need contributions to complete the trail network in town and improve the properties under our management.
If you are interested in helping WCLT steward properties and build trails in the community, contact the WCLT Stewardship Committee chair Keith Martin.