Nature Notes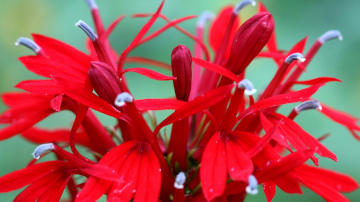 PHOTO COURTESY OF GARRY KESSLER
Cardinal flower
September 16, 2022
NATURE NOTES
By Annie Reid
Westborough Community Land Trust
Celebrating nature's special sites & special sights
What is special to see in Westborough? This, our 300th Nature Notes column, coincides with the 25th anniversary of the Westborough Community Land Trust (WCLT), which has been making Westborough better since 1997. That's a reason to celebrate both the special and the ordinary natural sites and sights that help to create our sense of place as nature works its magic in Westborough and neighboring towns as well.
PHOTO COURTESY OF GARRY KESSLER
Cardinal flower with spicebush swallowtail butterfly
Have you seen:
pink lady's slippers and cardinal flowers at Bowman (Westborough) Conservation Area ("the Reservoir"), the Town of Westborough's first conservation area? Look for pink lady's slippers along Piccadilly Brook around Memorial Day. In August, check shorelines for brilliant red cardinal flower.
ospreys at the Headwaters Conservation Area, the Town's second conservation area? From Osprey Point, spot the osprey nest on a platform out in Mill Pond. An osprey pair rears chicks there in spring and early summer. Look for bald eagles, cormorants, swans, and ducks.
fall mushrooms at Wile Forest and Libbey Conservation Area, the Town's third conservation area), or at the other Town conservation areas?
fall foliage reflected in WCLT's Gilmore Pond in early October? A newly upgraded quarter-mile All Persons Trail encircles the pond, making the area wheelchair- and stroller-friendly.
great blue herons nesting at Hoccomocco Pond? The bulky nests are in use April-June but remain there year-round. Walk (don't drive) along the water treatment plant's driveway.
warblers such as yellow warblers and American redstarts, which nest beside Lake Chauncy in spring & early summer?
beaver, wood ducks, and American woodcocks at MacCallum (Westboro) Wildlife Management Area (Headquarters side)? Beaver and wood ducks like the two ponds. In early spring, the Forbush Bird Club usually runs an evening walk to see and hear woodcock courtship displays over the fields.
bobolinks in May-June and monarchs and other butterflies in summer at St. Luke's fields? Bobolinks migrate from South America to breed locally. Milkweed and other field wildflowers attract butterflies.
Atlantic white cedars, once prized by colonists, in parts of Cedar Swamp, especially near Cedar Swamp Pond? Some of these cedars grow near the swamp's edges, but the pond is accessible by foot only in winter when the swamp is frozen solid. Part of Cedar Swamp was designated the state's first Area of Critical Environmental Concern (ACEC, 1975).
Everyday natural sights also contribute to our sense of place. Think of sunsets (over Mill Pond or from a MacCallum WMA hilltop), chickadees (our state bird), wild turkeys, white-tailed deer, winter juncos, woodpeckers, bluebirds, cardinals, red-tailed hawks, wild blueberries, white pines, and colorful sugar maples. Rare sightings of moose, bear, and bobcat have occurred over the years.
PHOTO COURTESY OF GARRY KESSLER
Yellow warbler
Think of those sounds we hear as seasons pass: wood frogs at vernal (spring) pools; spring peepers; early morning birdsong; American toads; bullfrogs, green frogs, and tree frogs; cicadas, katydids, and crickets; distant howling of coyotes.
Our natural environment offers old-fashioned fun for kids, from popping seedpods of jewelweed to keeping a caterpillar in a jar until it turns into a butterfly or moth. There's rabbit's foot clover to feel; pineapple weed, wild mint, and checkerberry leaves to sniff; dandelion and milkweed fluff to blow; and whorls of young white pine branches to count. Things to find include deer and raccoon tracks, woolly bear caterpillars, Jack-in-the-pulpit plants, 7-petaled starflowers, blue-eyed grass, monkeyflowers, and Christmas fern.
PHOTO COURTESY OF GARRY KESSLER
Fall foliage at Gilmore Pond
Look for garter snakes and water snakes, painted and snapping turtles, and butterflies large and small, bright or drably camouflaged.
Nature also lets us peek into the past. Discover old-time medicinal and food uses of local wildflowers; the histories of Joe-Pye weed, boneset flowers, and American chestnut trees; the comeback stories of wild turkeys, osprey, coyotes, great egrets, and more.
Nature helped many of us get through the pandemic.
To celebrate nature this fall, check out: the ongoing WCLT 25th Anniversary 25-mile Trail Challenge; WCLT's 25th Anniversary party on Sunday, October 2 at Nourse Farm; and WCLT's 25th Anniversary Hike at Bowman Conservation Area (West) on Sunday, November 6, re-creating WCLT's first organized hike. All are welcome at these events.
---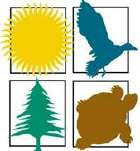 Report your own local nature sightings (or check out what others have seen) on WCLT's Facebook page! Find more information about enjoying nature in Westborough, including trail maps and a calendar of events, at the WCLT website.