Village News


PHOTO COURTESY OF GARRY KESSLER
American mink with fish
January 24, 2020, Page A4, A8
NATURE NOTES
By Annie Reid
Westborough Community Land Trust
Who am I?
WCLT's Annual Nature Notes Quiz
PHOTO COURTESY OF GARRY KESSLER
Opossum
PHOTO COURTESY OF GARRY KESSLER
Common garden spider
PHOTO COURTESY OF GARRY KESSLER
Northern shrike
PHOTO COURTESY OF GARRY KESSLER
Staghorn sumac berries
So far this winter, it has been both frigid and unseasonably warm. But no matter what the weather, if you've walked outside, did it seem as if birds and other wildlife are scarce – even more so than usual? Whatever has been going on, and whatever is to come this winter, now is a good time to look ahead to sights and sounds of nature in 2020 by taking our annual Nature Notes quiz about the local delights of nature we've featured in the past year.
Choose your answers from the drop down lists. Check your answers by clicking the "Show Answers" button. The answer page will contain links to the relevant 2019 "Nature Notes" columns on the Westborough Community Land Trust (WCLT) web site (http://www.westboroughlandtrust.org). There you can read last year's columns, or any of more than 269 past columns, and find maps of trails in Westborough.
---
Match these descriptions with possible answers from the list below:
---
Possible answers:
- Brown creeper (Certhia americana)
- American mink (Neovison vison)
- Common garden spider (Argiope aurantia)
- Mayapple (Podophyllum peltatum)
- Northern shrike (Lanius borealis)
- Question mark (Polygonia interrogationis) & eastern comma (Polygonia comma)
- Super blood wolf moon
- taghorn sumac (Rhus hirta, Rhus typhina), smooth sumac (Rhus glabra), winged or shining sumac (Rhus copalllinum)
- Virginia opossum (Didelphis virginiana)
---
---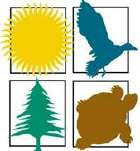 Nature Notes is printed in the Village News on behalf of WCLT (Westborough Community Land Trust). Report your own local nature sightings (or check out what others have seen) on WCLT's Facebook page! Find more information about enjoying nature in Westborough, including trail maps and a calendar of events, at the WCLT website.