PHOTO COURTESY OF GARRY KESSLER
WCLT's Gilmore Pond, a "charm" on Westborough's Charm Bracelet trail, will be a favorite spot for viewing fall foliage again this year. (Trail map)
September 22, 2017, Page A5
NATURE NOTES
By Annie Reid
Westborough Community Land Trust
Conservation Highlights in Westborough
What better year than 2017 to celebrate conservation in Westborough? It's Westborough's 300th anniversary (1717-2017) and, coincidentally, the 20th anniversary of the Westborough Community Land Trust (WCLT, 1997-2017). Following are some conservation highlights.
1908 -1929 Edward Howe Forbush, Massachusetts' first state ornithologist, resided in Westborough, wrote 3-volume Birds of New England. See his bird specimens on display in the Westborough Library.
1955 Westboro Wildlife Management Area (now Wayne F. MacCallum WMA) established by Mass Fish & Wildlife; additions in 1975, 1988, 1991, 1998 (428 acres, now 620 acres).
1968 Mill Pond, a SUASCO flood control reservoir, construction begun by State (380 acres).
1969 Bowman Conservation Area (Town's 1st conservation area) established to protect Town's water supply (Sandra Pond) (144 acres).
1974 Westborough Country Club & Golf Course acquired by Town (66 acres including 34 acres of Town conservation land).
1975 Minuteman Park established along Upton Road.
1975 Cedar Swamp Area of Critical Environmental Concern (ACEC) designated as the State's first ACEC, in Westborough (including Cedar Swamp Pond, headwaters of Sudbury River) & Hopkinton (total 1650 acres).
1980 Walkup & Robinson Memorial Reservation established by Sudbury Valley Trustees (SVT), donated by Westborough farmer Lawrence Walkup in memory of four generations of his family who farmed the land (62 acres).
1981 Nourse Farm (established 1722) - permanent Agricultural Protection Restriction (140 acres)
1986 Wile Memorial Forest established by New England Forestry Foundation (NEFF), donated by William H. Palmer Wile (89 acres).
1987 Glenrock Farm (now Emerald Isle) - permanent Agricultural Protection Restriction (48 acres)
1987 Open Space Preservation Committee (OSPC) established by Town to advocate for preservation of open space.
1990 Town Open Space Bylaw (with amendments through 2014) requires open space subdivisions to set aside parcels of land as open space.
1992 Sawink Farm Reservation established by Sudbury Valley Trustees (SVT) (68 acres in Westborough, rest in Northborough).
1997 Westborough Community Land Trust (WCLT) established as a private, member-supported nonprofit organization to preserve open space and the character of the land in Westborough.
1998 Orchard Swamp land donated to WCLT by the Hero family, eventually forming WCLT's Orchard Swamp Reservation (38 acres); other donations in 2003, 2005, 2014.
2000 Charm Bracelet Trail (28-mile loop around Westborough) begun by WCLT and OSPC, nearly complete by 2017, totaling 50+ miles of Charm Bracelet and side trails, built and/or maintained by WCLT.
2003 Headwaters Conservation Area (HCA) (Town's 2nd conservation area) established following Town's 1998 purchase of 100 acres to protect Assabet River headwaters.
2003 Gilmore Pond land (including Gilmore Pond) donated to WCLT by the Orchard Hill development; other donations in 2003, 2008, forming WCLT's Upper Jackstraw Brook Reservation, now WCLT's largest reservation (66 acres).
2003 Hidden Meadow land donated to WCLT by Valley View Estates (16 acres) in Bowman West; WCLT's 2005 Hidden Meadow restoration project created a 2-acre early successional grassland.
2003 Oak Bluffs land (along Assabet River floodplain) donated to WCLT by the Oak Bluffs development (19 acres).
2007 WCLT's Gilmore Pond park project to create woodland park (12 acres around 2-acre Gilmore Pond)
2007 Osprey nesting platform in Mill Pond installed by Organization for the Assabet River (OAR) and Massachusetts Fish & Wildlife.
2008 Indian Pond land & pond donated to WCLT by Indian Pond homeowners association; other donations in 2001, 2005, forming WCLT's Indian Pond Region (26 acres along Assabet River).
2008, 2010, 2012 Town's Wetlands Protection Bylaw increased protections for Westborough's wetlands and vernal pools.
2009-2013 Westborough Purple Loosestrife Biocontrol Project by WCLT & Westborough High School students reduced invasive purple loosestrife in town.
2010 Veterans Freedom Park established following Town's 2007 acquisition of land (23 acres).
2014 Libbey Conservation Area (Town's 3rd conservation area) established on land donated to Town in 1994 by Libbey family (110 acres).
2016 A portion of former Westborough State Hospital land protected as Town conservation land (19 acres) near Lake Chauncy, following 2014 Town purchase from State.
Let's do more conservation in Westborough in the years ahead!
---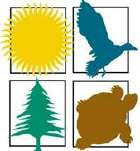 Nature Notes is printed in The Westborough News on behalf of WCLT (Westborough Community Land Trust). Report your own local nature sightings (or check out what others have seen) on WCLT's Facebook page! Find more information about enjoying nature in Westborough, including trail maps and a calendar of events, at the WCLT website.