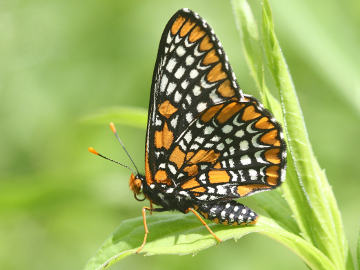 PHOTO COURTESY OF GARRY KESSLER
Baltimore checkerspot
January 15, 2016, Page A5, B5
NATURE NOTES
By Annie Reid
Westborough Community Land Trust
Name the wildlife – Nature Notes quiz
Winter finally arrived after a surprisingly warm December, but the days are already getting longer – a reminder that we can look forward to spring. Get ready to enjoy nature in 2016 by taking the Nature Notes quiz from the 2015 columns and refreshing your knowledge of local wild plants, animals, and more.
QUIZ:
NAME THE WILDLIFE!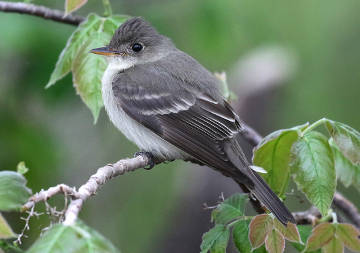 PHOTO COURTESY OF GARRY KESSLER
Eastern wood-peewee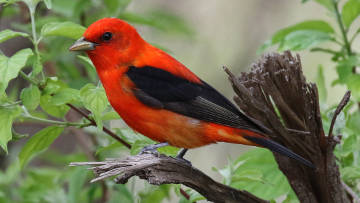 PHOTO COURTESY OF GARRY KESSLER
Scarlet tanager
Take the quiz by looking at the short descriptions below of wild plants, animals, and more featured in Nature Notes in 2015. Then match the descriptions with the names in the alphabetical list that follows.
Choose your answers from the drop down lists. Check your answers by clicking the "Show Answers" button. The answer page will contain links to the relevant 2015 "Nature Notes" columns in case you'd like to read any of last year's columns, or any others among more than 220 past columns.
NAME THE WILDLIFE!
---
Match these descriptions with possible answers from the list below:
---
Possible answers:
- American chestnut (Castanea dentata)
- Baltimore checkerspot (Euphydryas phaeton)
- Double-crested cormorant (Phalacrocorax auritus)
- Evergreen wood fern, intermediate wood fern (Dryopteris intermedia)
- Gypsy moth (Lymantria dispar)
- Ovenbird (Seiurus aurocapilla)
- Phragmites, giant reed (Phragmites australis)
- Red-tailed hawk (Buteo jamaicensis)
- Ring-necked duck (Aythya collaris)
- Scarlet tanager (Piranga olivacea)
- Squawroot (Conopholis americana)
- Sugar maple (Acer saccharum)
- Wood thrush (Hylocichla mustelina)
- Wood-pewee (Contopus virens)
---
---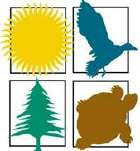 Nature Notes is printed in The Westborough News on behalf of WCLT (Westborough Community Land Trust). Report your own local nature sightings (or check out what others have seen) on WCLT's Facebook page! Find more information about enjoying nature in Westborough, including trail maps and a calendar of events, at the WCLT website.