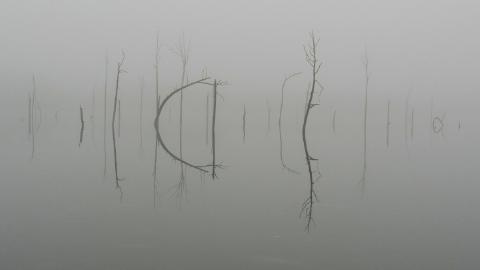 PHOTO COURTESY OF GARRY KESSLER
Heavy fog hangs over Mill Pond, as seen from Osprey Point in the Headwaters Conservation Area (HCA), on a warm day between Christmas and New Year's. Until about five years ago, a colony of great blue herons nested in the dead trees in the pond every spring, but the trees finally lost most of their branches and could no longer support the herons' large stick nests.
January 13, 2012, Page 5,18
NATURE NOTES
By Annie Reid
Westborough Community Land Trust
Quiz Yourself on Nature
Winter is off to – dare we say it? – a mild start in 2012, with nothing to shovel yet in Westborough. Our local ponds have a partial skim-coat of ice, but most aren't completely iced over.
Our photo shows fog over Mill Pond on a day between Christmas and New Year's, with the dead trees casting eerie reflections in the water. (As a friend suggested, turn the picture sideways, putting the left side at the bottom, to see another face of nature.)
Such a winter fog sets in when a warm day brings relatively warm, moist air over a cold surface, such as cold lake water or piles of snow. The cold surface cools the air and moisture condenses into fine droplets that make up the fog.
Even if the weather is letting you get out and about more than usual for this time of year, it's still a good time to put your nature literacy to the test – without leaving the comfort of your chair. Take our annual nature quiz. Below you'll find short descriptions of natural things featured in Nature Notes in 2011. See if you can match these descriptions with answers from the list that follows.
Choose your answers from the drop down lists. Check your answers by clicking the "Show Answers" button. The answer page will contain links to the 2011 "Nature Notes" columns so you can re-read them as a way of preparing to enjoy nature in 2012.
If all or most of your answers are correct, email us your name (or your group's name if a class or scout troop or other group is answering the quiz) at NatureNotes@westboroughlandtrust.org. We'll congratulate the top scorers in a future issue of the Westborough News – the more top scorers, the better for Westborough's nature literacy.
---
Match these descriptions with possible answers from the list below:
---
Possible answers:
- Beaked hazelnut (Corylus cornuta)
- Blue jay (Cyanocitta cristata)
- Blue-winged warbler (Vermivora pinus)
- East coast earthquake
- False turkey tail (Stereum ostrea)
- Four-toed salamander (Hemidactylium scutatum)
- Ggreat blue heron (Ardea herodias)
- Great egret (Ardea alba)
- Groundnut (Apios americana)
- Northern cardinal (Cardinalis cardinalis)
- Pineapple weed (Matricaria discoidea, formerly Matricaria matricarioides)
- Redback salamander (Plethodon cinereus)
- Sphagnum moss (Sphagnum)
- Tiger swallowtail (Papilio canadensis and Papilio glaucus)
- Tufted titmouse (Parus bicolor, Baeolophus bicolor)
- Turkey tail (Trametes versicolor)
- Turkey vulture (Cathartes aura)
---
---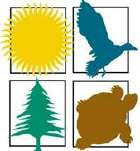 Nature Notes is printed in The Westborough News on behalf of WCLT (Westborough Community Land Trust). Report your own local nature sightings (or check out what others have seen) on WCLT's Facebook page! Find more information about enjoying nature in Westborough, including trail maps and a calendar of events, at the WCLT website.