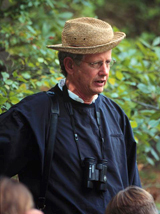 © Peter Alden/Discover Life
Peter Alden
Many people were surprised by what they heard at the talk, "Changes in Flora & Fauna from Thoreau's Time to Today," by naturalist, lecturer, and ecotourism guide Peter Alden at the Westborough Community Land Trust's annual meeting in June.
Anyone who had imagined Thoreau's time as one of deep woods and wild animals roaming the New England landscape discovered that this idea is wrong.
Those who had a sneaking suspicion that there were many fewer invasive plants around when they were growing up were surprised to discover that they are right!
People who worry about climate change were surprised by Alden's claim that southern birds are moving northward into New England, not because of global warming, but due to bird-feeding and the fruiting of invasive plants.
Anyone who likes to catch sight of deer discovered that deer are New England's number one environmental problem, according to Alden.
People who gather oriental bittersweet vines for colorful fall decorations were unsettled by Alden's claim that this vine is a menace that will be the death of all the trees in New England.
People who regularly fill their bird feeders learned that, on balance, Alden does not view bird-feeding as a good thing.
In a nutshell: Alden pointed out that the New England landscape has changed greatly over the years as land uses have changed, so that today there are more woods and many fewer fields and pastures than in Thoreau's day when farming prevailed. Today our natural environment is filling with invasive plants, which themselves are bringing changes. Many of the birds we see today are different than in Thoreau's time, attracted to our area by bird feeding and the fruiting of invasive plants. Because forests have returned, we now also glimpse mammals such as beaver, deer, and coyotes that were rarely seen around here in Thoreau's time. Today we have exploding populations of white-tailed deer and mid-sized carnivores such as coyotes. Due to the large numbers of deer and invasive plants (which deer don't usually eat), our wildflowers are fast disappearing, and with them, our butterflies.
For particulars, read on.
Thoreau's time and place were more than 160 years ago in nearby Concord, Mass. There, Henry David Thoreau (1817–1862) wrote Walden (1854), the book we associate with his name today, and many other writings. He was, according to Alden, a good botanist and ornithologist for his day, who made notes of blooming times and bird-returning times over 12 years.
Compared to Thoreau's time in the 1850s, today wildflowers in our area bloom one week earlier, and birds that winter in the southeastern U.S. return a week earlier. In contrast, birds that winter in the Amazon area come back about the same time.
What does this mean? In the 1800s, Alden said, 90 percent of the forests in New England south of the White Mountains were gone—converted into fields and pastures for agriculture, but forests in Latin America were fine. Today, the situation has reversed. Woods have returned to New England, but forests in Central and South America are being cleared on a large scale.
Photo by Alastair Rae
Eastern Meadowlark
In Thoreau's time, our area had grassland birds that had come east from the Great Plains. These birds are now retreating. The meadowlark, for example, is the bird that's disappearing fastest from Massachusetts. It's still found in 30 Massachusetts towns, often in the grassy open areas around airports (such as the Worcester airport). The largest increase in meadowlarks today is in Latin America, where land is rapidly being cleared.
Cowbirds, which once followed American bison on the plains and are known for laying their eggs in the nests of other birds, also came east when forests were cleared here, but they have stayed. Today cows and birdfeeders in the east help to sustain them. On a walk earlier in the day at the Town of Westborough's Veterans Freedom Park (formerly the Lee property), Alden had spotted chipping sparrow parents feeding two large cowbird chicks. He reported that for wood thrush nests to be free of cowbird eggs, they have to be located deep in the woods, at least one mile away from the woodland edges.
The Audubon bird counts show that some birds are moving their ranges north, but this is not because of climate change. It's because of bird feeding and invasive plants.
We'll find nothing in Thoreau's writings about invasive plants, Alden said. Most of the invasive plants in the northeastern U.S. today came from the Far East—northern Japan, Korea, the Russian far east, and China north of Beijing, especially around the Amur River.
How did invasive plants get here? "The botany community brought them here to sell," Alden said.
Oriental bittersweet is an invasive climbing vine that Alden sees as especially destructive to our area. "It's going to kill all the trees!" Alden warned.
Other invasive plants in our area that were largely absent in Thoreau's time include Japanese knotweed, Norway maple (from Europe), tree of heaven (Ailanthus altissima) with its "leaves that smell like cat urine," and black locust (native to the southeastern U.S, not New England) which is replacing oak forests in southeastern Massachusetts.
Unfortunately, Alden noted, almost no native insects in our area eat the leaves of invasives. For this reason, as invasives replace native plants, he predicted "there will be no insects in June for birds to feed to their babies." This means that the Baltimore oriole, which comes here to breed after wintering in Latin America, and the scarlet tanager, which flies here from South America, won't find insects for their young. There will be no bugs for local pileated woodpeckers to eat, he said, unless it turns out that they eat the invasive Asian longhorned beetle.
Why haven't popular non-native plants such as lilacs and forsythia become invasive? Unlike invasives, they do not bear fruit that allows birds, wind, and rain to spread them considerable distances, helping them to leap-frog into new locations. They stay in the area where they were planted.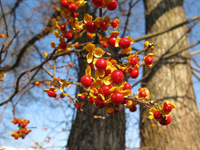 Oriental bittersweet
Alden said New England today is a "Fruitopia" for birds in August and September, due especially to invasives that produce fruit: Morrow's and oriental honeysuckles, burning bush, autumn olive, and oriental bittersweet vine. These plants, like so many invasives, compete well with native plants partly because they leaf out earlier in the spring, and keep their leaves much longer in the fall.
Other, newer invasives are arriving in Massachusetts: porcelain-berry, black swallowwort, mile-a-minute vine, Japanese stilt grass (recognizable by a white line down the leaf, now arriving in the nearby Blackstone valley), garlic mustard, and yes, even kudzu from the South.
Non-native Phragmites (common reed) is drying up wetlands, hurting the native wood ducks that use them. Water chestnut is invading our lakes, ponds, and waterways. It is spread mainly by Canada geese, which themselves are an invasive non-native species, Alden said.
Part of the remedy for the spread of invasive plants, Alden suggested, is to change the laws that regulate herbicides, give more protection to uplands, and appoint an invasive alien "czar" to coordinate and oversee efforts to control invasive plants.
Surprisingly, today we see many mammals that weren't common in Thoreau's time, Alden said.
Beavers weren't much seen around here in Thoreau's time, or even in the 1950s. Back then, kids would shoot them. Today beavers are protected and doing well, spreading as woodlands spread. Thanks partly to beaver-created wetlands and man-made ponds, we now also have more great blue herons. They weren't seen in Thoreau's time, but now Concord has 68 pairs.
Black bears sometimes appear today in eastern Massachusetts, thanks to bird feeders that are available for them to raid—not so in Thoreau's time.
Coyotes are more common now than in Thoreau's time, as are fishers (a medium-sized weasel that eats porcupines, small mammals, and the occasional housecat). These animals are part of an explosion of medium-sized carnivore populations, due to laws that allow very little trapping in Massachusetts.
Moose are now seen in Massachusetts, mainly west of Worcester.
Deer are so common today that they are the number one problem in New England, Alden claimed. The overpopulation of white-tailed deer is eating our native wildflowers, helping to wipe them out, along with the butterflies that depend on them. Alden reports that approximately 25 percent of the wildflowers in Concord from Thoreau's time have died off since the 1970s, when wildflowers in the area were pretty much the same ones as in Thoreau's time.
If you see a wooded area with lots of ferns, Alden said, you know you have deer, because deer don't eat ferns. In contrast, he said, if you visit West Virginia, which has very few deer, you'll see lots of wildflowers.
Part of the solution for the deer problem, Alden suggested, would be to bring back mountain lions and wolves, the natural predators of deer.
What birds are new in our area since Thoreau's time? Mute swans (which are non-native) and mallard ducks (which are wiping out native black ducks by interbreeding with them) are relatively new. The pigeons we see in towns and cities are also non-native, as are house sparrows and starlings, both of which readily take over nesting boxes put out for native bluebirds.
Red-bellied woodpecker
Cardinals, red-bellied woodpeckers, tufted titmice, and Carolina wrens lived farther south in Thoreau's time but are in our area today because of bird-feeding.
Today Cooper's hawks and sharp-shinned hawks kill birds at bird feeders, and red-tailed hawks eat squirrels that fatten on sunflower seeds at bird feeders. This did not happen in Thoreau's time because people did not feed birds back then.
Unlike what some people might expect from a naturalist, Alden does not favor bird-feeding. It's not natural!
Wild turkeys had disappeared from Massachusetts but have made a comeback in recent years, now that we have woods again. They roost in trees at night, where they are safe from coyotes, which are getting other large native ground birds such as ruffed grouse.
Today we can again see birds whose populations had declined sharply decades ago due to the effects of DDT. They include bald eagles, double-crested cormorants, and osprey. Although DDT is now banned in this country, Alden warns, the U.S. still sells it overseas, where it harms birds that migrate to other countries.
Whether they agreed with everything or not, members found Peter Alden's talk entertaining, provocative, and full of information as well as surprises.